Park Cities Custom Homes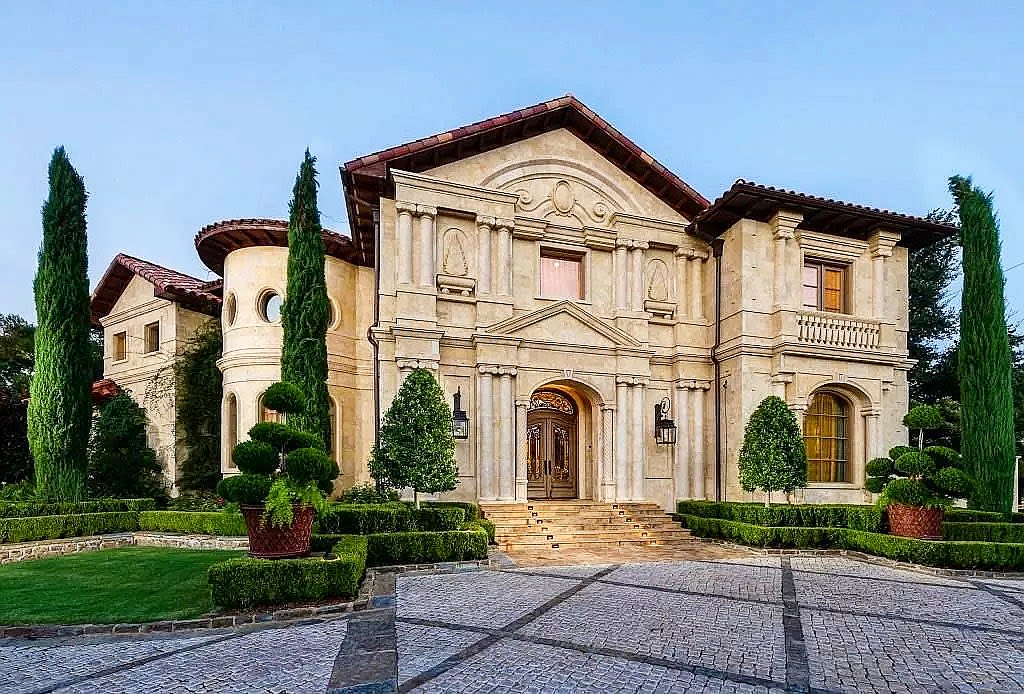 Highland Park and University Park are affluent small towns in North Dallas commonly referred to as the "Park Cities." These sister cities have several similarities, such as being attractive to families due to their excellent public schools and safe environment. Each has its own government, fire department, police department, and school district.
Highland Park touts a smaller population than University Park, but both boast comfortable estates and close-knit communities. One of University Park's most well-known neighborhoods, Volk Estates, is renowned for its dazzling Christmas lights and holiday displays. During the holiday season, large tour buses and vans escort people from all over Dallas to see the breathtaking decorations.
Homes in the Park Cities are defined by approachable architectural styles, ranging from classical motifs to traditional homesteads. These homes typically boast a smaller footprint, which provides an intimate feel. Most properties are constructed with the main rooms facing the backyard or side yard instead of their neighbor's houses for privacy's sake.
There is a growing trend among those interested in Univeristy Park real estate or Highland Park custom homes to include stylish backyards, often with small pools—you have to beat that Texas heat somehow! Interior design typically focuses on the kitchen, living, and breakfast areas where families spend most of their time together, leading to an increased interest in open-concept spaces.
Since the Park Cities are small communities, lots can be challenging to come by as it usually means you'll have to tear down an existing home and rebuild. A half-acre in Highland Park will generally cost around $3.5 to 6 million, while University Park prices are about 25% less. Lot prices have increased dramatically over the last few years.
If you're keen on finding a lot in today's market, it's critical to remain on alert for openings. It's best if you have a builder or agent looking out for you to notify you straight away when one becomes available.
When you're in the mood to window shop, Highland Park Village is a luxury outdoor shopping center and one of the oldest and most prestigious in the country. Most of the retail stores here are designer boutiques like Hermès, Harry Winston, and Chanel. Highland Park is also home to the Dallas Country Club, a sophisticated and exclusive neighborhood staple.
The Shops of Highland Park is a chic mall, perfect for wining and dining. The vibrant Knox-Henderson neighborhood boasts a diverse mixture of shops and restaurants with plans to continue building out the site.
Snider Plaza is a three-block shopping center with several family-friendly hotspots like casual dining favorite Bubba's and dozens of unique boutiques. At Mockingbird Station, you'll find a shopping mall home to big-name stores and boutiques alike, alongside restaurants, comedy clubs, and a cinema.
Stretching across 14 landscaped acres is Lakeside Park, a Highland Park oasis known for its breathtaking scenic views. Lakeside is a popular spot for people to hang out, fish, or have a picnic. People come from all over the city to visit this attractive outdoor area. Other gorgeous natural locations include Katy Trail, a walking trail that runs through the Uptown and Oak Lawn areas of Dallas.
Preston Hollow Custom Homes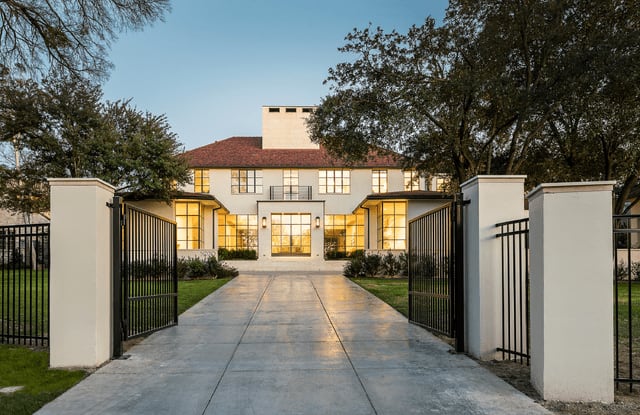 North of University Park is the neighborhood of Preston Hollow. This community radiates an air of regality and affluence and is considered the "golden corridor" of Dallas due to its high-profile residents, including billionaire and entrepreneur Mark Cuban and former President George W. Bush. Here you'll find quiet, tree-lined streets dotted with modest, ranch-style homes and natural adornments like creeks, numerous trees, and lush green spaces.
Most residents seeking homes for sale in Preston Hollow do so for serenity, esteem, and seclusion. The gated entrances, spacious lots, and private security add a sense of exclusivity to life within the community. Most homes reside on large lots, sometimes up to five or six acres in size. The ample space means you'll be spread far apart from your neighbors. Additional add-ons like imposing walls and landscaping can provide extra privacy.
However, despite Preston Hollow's reputation as one of the wealthiest Dallas suburbs, that shouldn't dissuade you from taking a look at what this neighborhood has to offer. It all depends on what part you want to live in as the community is large and varied. While you'll find some very prestigious blocks, there are also several more approachable streets with more affordable options.
A half-acre typically costs anywhere from $900k to $2 million, and homes usually range from 4,000 to 18,000 square feet. Those seeking spacious estates with lots of land and privacy are far more likely to find the perfect lot specifications in a Preston Hollow custom home since houses sitting on multiple acres of land can be prohibitively expensive in the Park Cities.
Also unique to the area is the freedom Preston Hollow custom home builders have when developing the properties. Architectural styles vary from ultra-modern to traditional. House sizes are comparatively larger as the lot sizes are more expansive.
Preston Hollow homes almost always boast spacious backyards. People who appreciate the outdoors will build Olympic-sized swimming pools, sprawling grass fields, and large garden areas. You might even see the occasional water slide!
More land means more freedom in the initial planning and developmental stages. In the Park Cities, you are more likely to find the master suites and bedrooms on the upper floors, but in Preston Hollow, developers have the liberty to choose what works best because they have the extra space. That said, Preston Hollow is equally fond of the open-concept kitchen design, and many homeowners like to focus on the kitchen and living room areas where families most frequently congregate.
Keep in mind that Preston Hollow has more of a country feel than Park Cities and isn't quite as pedestrian-friendly. The neighborhood likes to foster its country vibe, so there aren't many sidewalks—hence why during Halloween, most families prefer trick-or-treating in the Park Cities!
The area surrounding Preston Hollow is well-stocked with outdoor shopping areas. Preston Hollow Village sits on over 40 acres. This significant, mixed-use development features grocery stores, restaurants, retail, fitness centers, office space, and residential units.
The Preston Center Pavilion is a shopping mall right around the corner on Westchester Drive, and the Plaza at Preston Center offers a premier collection of boutiques, restaurants, and other services. In general, there is no shortage of diverse options when it comes to shopping and dining near Preston Hollow. Everywhere you turn, there are eclectic eateries and retailers to explore.
Preston Hollow is conveniently located near some of Dallas's most prestigious private schools, such as St. Mark's School, an all-male institution. The Catholic all-girls high school Ursuline Academy of Dallas is also here in the Preston Hollow Estate area. And since the Park Cities are close, so is the revered Southern Methodist University and its many public amenities.


Dallas Custom Homes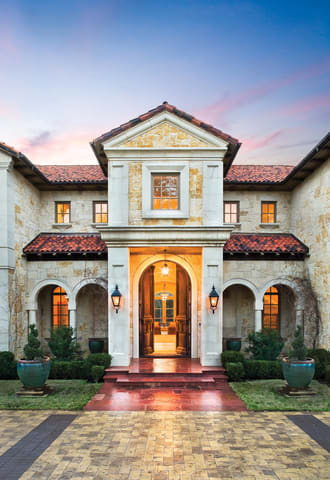 Buying a home in Dallas means living in a trendy place that continues to grow every year. The ninth-largest city in the country and the fourth-largest metropolitan area, Dallas is a beautiful, diverse city with numerous distinct neighborhoods, each with its own unique flair.
Beyond the Park Cities and Preston Hollow, the surrounding Dallas area is a beautiful area home to some of Dallas's most elite residents and families. Featuring a mixture of ranch-style homes and sprawling estates, here you'll find some of the most beloved neighborhood shopping centers and prestigious private schools.
Apart from the shopping malls in Preston Hollow, like the retailers that stretch along Preston Road, Dallas is home to an extraordinary number of excellent shopping centers, malls, museums, bars, restaurants, and entertainment venues.
Shopping is almost like a sport of its own in Dallas with so much variety. Whether you're looking for a budget-friendly trip or luxury brands, there's no shortage of options from notable shopping destinations like the NorthPark Center, Galleria Dallas, and Highland Park Village to smaller neighborhood districts like Knox-Henderson and the Design District.
The Dallas World Aquarium houses an extraordinary rainforest exhibit featuring exotic birds, three-toed sloths, and endangered animals you won't see anywhere else. You'll see colorful displays of marine life in the aquarium portion ranging from penguins to Japanese crabs.
Minutes away from downtown on White Rock Lake is the 66-acre Dallas Arboretum and Botanical Garden. Overlooking the scenic lake, the arboretum has 11 lush display gardens providing seasonal color throughout the year. This historic and elegant location is perfect for special events as the 5,000 square feet Rosine Hall makes the ideal venue for receptions and dinners.
When it comes to Dallas custom homes, everything goes. You'll find homes built in a wide range of architectural styles, and the sentiment is similar when planning a house layout. Everyone wants a pool to escape the dry Texas heat, and if it has a lovely lounge and seating area nearby to gather with friends and family, even better. Dallas area custom home builders have experience satisfying a wide range of projects and preferences.
A half-acre can vary tremendously based on location, with home sizes ranging from 2,000 square feet and beyond. Unlike Preston Hollow and the Park Cities, which have almost no additional room for expansion, the surrounding area has more lots available for Dallas real estate. Dallas still has many underdeveloped residential areas that are ripe for redevelopment. You won't have to tear down an existing home to build a new one and start fresh on a new plot of land.
Combine that with Texas' lack of income tax, and it's no surprise that there is a nationwide exodus from other big cities as people seek the solace of Dallas amenities. With a growing population, commute times from cities like Plano and Frisco are growing, so many newcomers are prioritizing living in Dallas itself rather than a nearby suburb.


About S&R Development | Custom Homes
There are many factors to take into account when deciding where to build your custom home in the Dallas area such as your lifestyle, budget, desired style of home, school district, nearby amenities and more.
Most importantly, you should feel confident that you are building in an area and street that will appreciate over time. In this regard, working with an experienced builder is key.
Ready to start creating the custom home of your dreams? S&R Development has extensive experience building homes all across Dallas, including in Highland Park, University Park, Preston Hollow, Bluffview, Lakewood and more.