Although open-concept homes have become more popular in recent years, there will always be an indisputable need for dining rooms in Dallas homes. A dining room acts as a designated space to share meals — and memories — with friends and family. Not only do dining rooms act as a place where loved ones can gather for conversation and camaraderie, but it's also the perfect getaway from the distractions of the TV and smartphones. And the dining room can also make the perfect setting for after-dinner conversation, drinks, and board games.

With this handful of helpful tricks for creating the perfect dining room for every occasion, you'll be well on your way to making this underrated space your favorite room in the house.

While S&R Development will lead the plan, design, and build of your custom dining room, we always encourage clients to come in with some high-level ideas of what they had in mind. Alternatively, if you'd prefer a more hands-off approach, leave it to us to propose a few dining room design ideas that fit with the style of your custom home.

Looking for some inspiration? Check out a few photos from our Dining Room Gallery.
Determine your needs
The first step toward a successful dining room design is to analyze your needs for the space. Although a dining room generally has less furniture than other rooms in the house, it is still helpful to give some thought to your overall goals for this room.

First, decide how many people you'd like your dining room to seat. It may be prudent to design with flexibility in mind to accommodate both intimate and larger parties. Making this decision early on will help determine how much space to set aside for your dining room and informs decisions such as the size and shape of your dining table.

It should be noted that small, round tables are an excellent choice for those looking to maximize conversation and flexibility for a varying number of guests. Long, rectangular tables are optimal for seating more guests, but they can impact conversational patterns.

The next item to consider is the extent to which you will be doing your own cooking or providing catering. While it generally makes sense to position the dining room near the kitchen, this may not always work with the layout of your home. Additionally, if your home is more of an open-concept design, you may not want your dining room to be adjacent to the kitchen so that your guests do not encounter any noise or interruption. Thinking about hosting guests frequently and providing catering? Perhaps a secondary catering kitchen would make sense.

It's also important to consider how you expect food to be served in your dining room. For example, if you expect to have wait staff serving the majority of meals, you should make sure there's enough room for the staff to navigate the room comfortably. If you expect to be serving meals yourself most of the time, make sure there is plenty of space for sitting and standing frequently. Planning on serving a buffet? Make sure to select a large enough table or consider an additional area in the dining room for guests to grab their food before taking a seat.
Select a theme
When thinking about your custom dining room, take some time to decide on the theme and desired ambiance for your space. Whether you are aiming to create a sophisticated, elegant atmosphere or a cozy, casual feel, this is an excellent time to determine the overall theme or concept that will drive all of your design decisions from this point forward.

Whether your preferred architectural style is formal, transitional, modern, Mediterranean, or something different altogether, deciding on the style that best fits your vision for the space will help us make important selections such as flooring, lighting, ceilings, and furniture.

Choosing a paint color for the walls is a great way to add flair to any space. Wallpaper has made a comeback in recent years, and the dining room is a great choice for incorporating wallpaper that accents your space. The ceiling is also a perfect blank canvas for faux beams or a tray ceiling. An area rug is an excellent way to add coziness and style to your space — just make sure you choose one that is large enough to accommodate chairs sliding in and out comfortably. Since furniture acts as one of the natural focal points of the room, choosing the right dining set is the perfect way to capture the overall feel of the room.

Last, don't forget about potential design elements that act as a focal point for the space. Your selections should not only add to the architectural style of the room but should also be an excellent conversation starter. A couple of ways to accomplish this are to incorporate a large picture window, a fireplace, a built-in bookcase, or a beautiful painting. As you layer each of these design elements, you'll create an unforgettable dining room that everyone can enjoy.
Choose furniture
Now that the overall feel for the room has been established, it is time to select pieces that will make up the furniture layout for your dining room. Beyond the traditional selections commonly found in most dining rooms, consider some other unique options that will add style and function to your space.

As we previously mentioned, the dining room table and chairs are often the most eye-catching pieces in the room. Pay close attention to the size and scale of your furniture selections as they relate to the size of the room to ensure that they are proportional. It's also important to remember that you'll want at least three feet of walk space on any given side of your table and chairs. If you'd like your table to serve a wide range of party sizes, select one that's equipped with leaves for easy expansion.

A buffet or hutch can add beauty as well as function to any space. It is important to have storage solutions for special-occasion serving dishes, dishware, and utensils. Including some custom built-ins may also be the perfect chance to inject personality and beauty into your home. These additional pieces are also a great place to display family china or other heirlooms that are meaningful to you.

Another way to inject some unique flair into your dining room is to add a cocktail area. For flexibility, consider adding a rolling or stationary bar cart that is both useful for display and function. Along with liquor and mixers of your choosing, add an ice bucket, cocktail shaker, and beautiful barware to set the tone for the evening ahead. Consider adding shelves for displaying your curated selections, as well.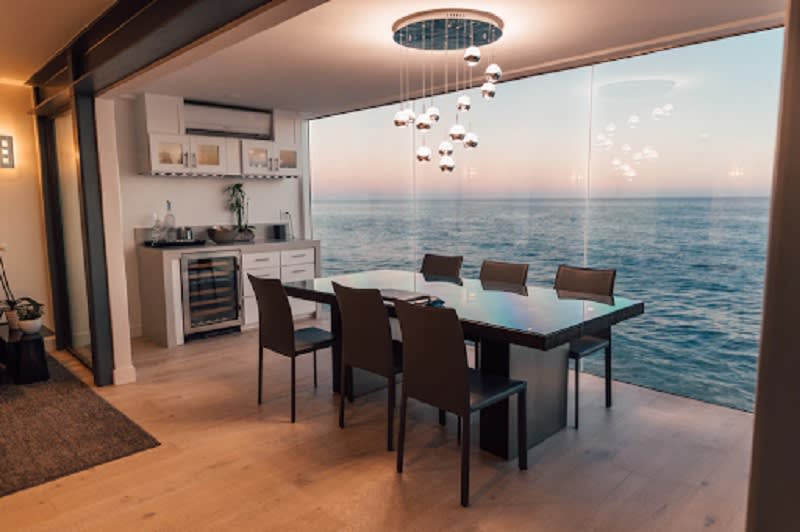 Add the finishing touches
Now that the majority of design decisions have been made, it's time to take a step back and select a few final touches that will complete your dining room design. Let's take a look at some prime opportunities to add both function and flair to your space.

Dining room lighting not only illuminates your table but is also an important design feature that displays your personal style. It's important that the size of your light fixture is proportionate with the size of the room and your dining room furniture. Options for dining room lighting over your table include chandeliers, pendants, and flush-mount lighting. Other opportunities to add character with lighting are wall sconces, table lamps on the buffet, and candelabras.

Because music is the perfect way to create the right atmosphere for your gathering, consider adding a built-in speaker system that will pipe in your favorite playlists. Although there are many multi-room options available, popular choices include Sonos, Bluesound, and Audio Pro.

Last, select table settings and decor that add to the overall harmony of the room. Add a sophisticated centerpiece in the form of an elegant candelabra or colorful floral arrangement. Consider the overall color theme of the table with the knowledge that statement items like colorful dishes should be accented by soft, subtle tones. Add touches of greenery and romantic candles without overwhelming the tablescape with clutter.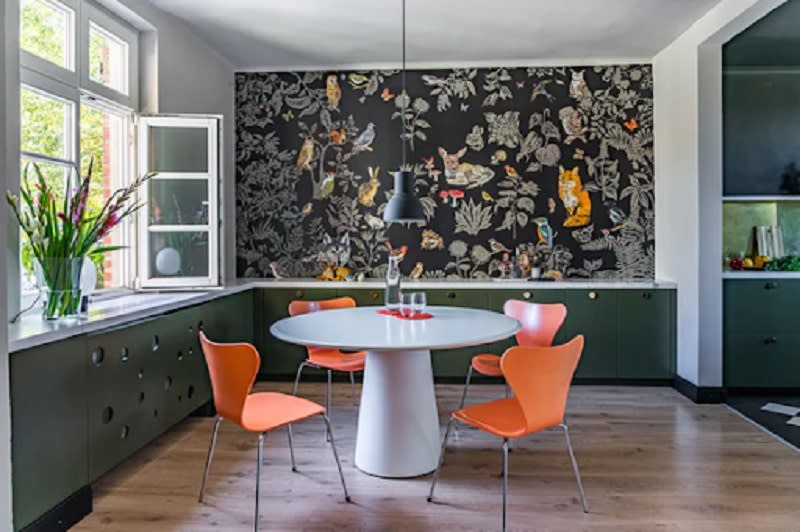 A dining room is not only functionally important to your home — it's also an amazing place to create a relaxing, enjoyable atmosphere for friends and family. Are you looking to build the ideal Dallas home and start making all of your dining room design ideas into a reality? Look no further than S&R Development, your best possible ally during the design and construction process. With nearly 20 years of experience in building distinguished custom homes in the Dallas area, S&R can help you create the home of your dreams. Contact us to get started today.