The kitchen is the heart of almost every home in America. No longer just used for food preparation, cooking, or baking, modern-day kitchens act as the home's headquarters for activities like socializing, family game night, homework, recreation, and spending time as a family. If presented with the opportunity to renovate your existing kitchen or design one in a luxury custom home, you need to consider a multitude of factors. Rest assured that this handy guide will help you make decisions that will bring your dream kitchen to life.
Establishing Goals
Knowing where to start when designing your custom kitchen can be overwhelming. Simply put, the best place to start is to decide exactly what your needs are as a family and, in turn, decide how your kitchen can meet those needs. For example, an important decision to make early on is whether you'd like an open-concept or closed-concept kitchen. Houzz breaks down each of these concepts nicely in this article, where before the turn of the 21st century, kitchens were largely separate and private from both the home's living and dining room spaces. However, over the last 20 years or so, homeowners sought to meld the process of cooking and cleaning in the kitchen with socializing with their loved ones. Decide early on which concept fits your family's needs. Does it make more sense to use your kitchen as mainly a food prep area and, subsequently, as an area to dine as a family? If so, then perhaps a closed-concept kitchen fits your needs best. Conversely, is your ideal kitchen used for congregating with friends, games and puzzles, or as a temporary workspace for homework? If so, then an open-concept kitchen is for you. Next, decide if you'd like your kitchen to be open to the dining area, living space, or both. If you have a large family, design a large island or peninsula that can best fit your family and friends. Furthermore, when deciding how your custom kitchen can meet your needs, be sure to weigh whether your family mostly cooks or eats out. If your family tends to prioritize eating out, then perhaps a kitchen with a smaller footprint with fewer upgrades makes sense. In conclusion, seeing the big picture of how exactly you'd like your kitchen to play a role in your family's day-to-day life will facilitate the design of your perfect kitchen.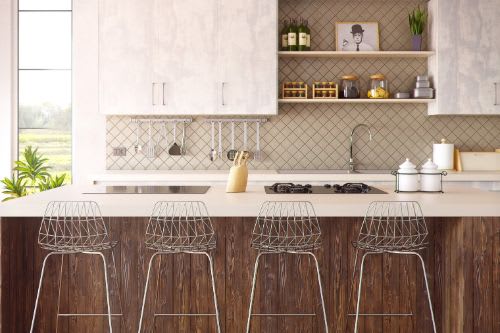 Selecting Cabinetry
Now that you have your overall goals established for your custom kitchen, it's time to decide what architectural feel and style you're trying to achieve. Luckily, companies like Houzz have a handy guide that will help you make this decision easy. Selecting a cabinet style is a great place to start. If you tend to prefer traditional or Old World-style kitchens, go with a raised-panel front on your cabinets. If a sleek, modern kitchen is your ideal style, then choose a flat-panel cabinet. If you are somewhere in the middle of these two styles and prefer a timeless look, go with a shaker cabinet. Beyond cabinet style, another way to add your own flavor to your kitchen design is by adding color to some or all of the cabinets. If you can't commit to a single color or a single wood look, consider mixing and matching. Another way to add some flair includes open shelving or glass-front cabinets for displaying your favorite trinkets, gorgeous succulents, or prized dishware. Lastly, consider some unique accents to your cabinet style by knowing your options for molding and hardware. As an overarching goal, it will serve you well to balance function with beauty when selecting your kitchen cabinets. With so many ways to add your own special touch to the cabinet style of your kitchen, you can set the tone for your overall kitchen design.
Choosing Appliances & Fixtures
Next on the checklist is determining what appliances and fixtures fit your vision for your custom kitchen. Central to any kitchen is the sink, which comes in any size, color, shape, and mounting type imaginable. There are also a number of sink materials to choose from, including stainless steel, enameled cast iron, quartz, and more. Decide on a sink by considering how you normally complete meal prep and how you clean dishes, pots, and pans. Next, select a refrigerator by determining whether a freestanding or built-in model (that matches your kitchen cabinets) is right for you. Keep in mind that when it comes to choosing a refrigerator, there are both counter-depth and standard depth options which protrude about 6 inches past the front of your cabinets. Of course, there are also many door/drawer configurations from which to choose. Find the very best for your kitchen by utilizing a top brand like Sub-Zero. Another important appliance in your kitchen is your cooktop or rangetop, depending on whether your home is equipped with gas or electric. For a trendier option, look into an induction cooktop. Top-of-the-line cooktop brand Wolf is sure to have a model that fits your specific needs. After selecting these items, identify the corresponding range hood, oven or double ovens, microwave, and dishwasher that will round out the fixture and appliance selections for your kitchen. Once these decisions have been made, you are well on your way to achieving your ultimate kitchen.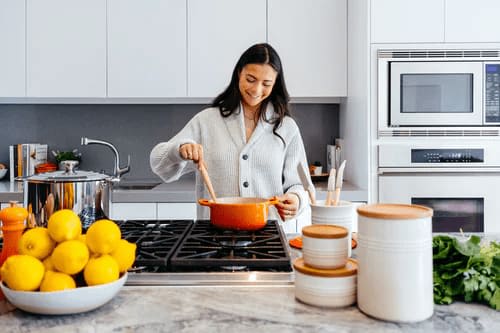 Picking Out Countertops
When it comes time to choose what type of countertop material will best serve your needs, it is helpful to know the pros and cons of every available option. HGTV summarizes this nicely here. If you're looking for a budget-friendly option, there is no more economical choice than laminate or solid surface. However, if a high-end kitchen is your goal, you have plenty of options. Granite is an unparalleled top choice. Available in a variety of textures, shades, and coloration, granite can be further customized by having either a polished or matte finish. Not far behind in popularity is quartz, which is revered for its beautiful look and durability. Other popular natural stone materials like limestone, soapstone, or marble are much softer than granite or quartz and require a greater amount of care. Concrete countertops have also begun to surge in popularity and can be customized with different pigments or finishes. However, they can be damaged easily by spills or heat. Wood countertops like butcherblock have also gained traction in recent years, but they can be easily water damaged and need consistent oiling. If you simply can't decide on a single material you like best, consider using a mix of materials for different areas of your kitchen. Moreover, another choice for customizing your countertops are the edges; choose from radius, bullnose, bevel egg, and ogee, depending on which material you go with. And, of course, don't forget the fun accents like a backsplash that will really add flair. As you can see, deciding on a countertop material will result in a successful overall design.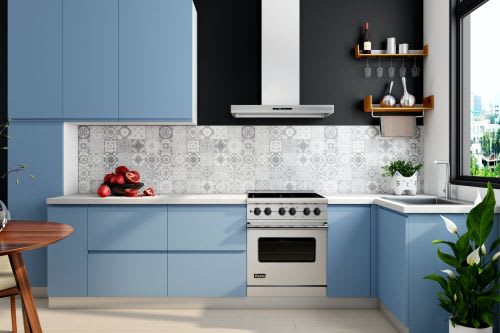 Finalizing Lighting & Flooring
With most of the other design elements selected, now is the time to take lighting and flooring into consideration. Successful kitchen lighting is important not only aesthetic-wise but also for helping you complete fine tasks. Plan for both by using a mix of task, ambient, and accent lighting to complete your kitchen. Be sure to keep your kitchen's overall style in mind as you select fixtures that will complement your theme. Another selection to make is flooring. Choosing a kitchen flooring material is all about balancing cost, aesthetics, durability, and maintenance. While traditional choices like hardwood and engineered wood are timeless, the downside is that these do not tolerate the humidity and moisture common in kitchens. Although a similar wood look can be achieved with laminate without the expense of hardwood, this type of flooring is not as durable and does not hold up to moisture, either. Two top choices are tile and luxury vinyl tile (LVT). While tile flooring can be expensive and time-intensive to install, it pays off in terms of durability and the sheer number of choices for size, pattern, and material. LVT is a fantastic option for aesthetic looks ranging from stone to wood to concrete pattern and endures vigorous daily use. In summary, these finishing touches will help to complete your custom kitchen.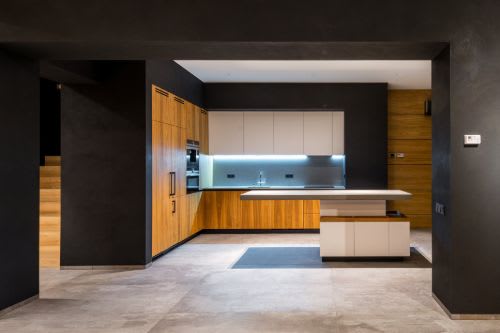 With a wide array of choices and decisions, hopefully, this list will transport you closer to achieving your dream kitchen. Want to hire the very best luxury custom home builder in the Dallas area to help you realize your ideal kitchen? Look no further than S&R Development, a trusted and distinguished partner in bringing beautiful home and kitchen designs to life for nearly 20 years. Contact us today to get the process started.